RICK LARSEN is an improvisor, standup comedian, and author living in Phoenix, AZ. He performs regularly at The Torch Theatre in Phoenix with several teams, including Apollo 12, Teenage Hearthrob, and The Improvised Bookclub. He has performed in the Out of Bounds Comedy Festival and has performed in and hosted the Phoenix Improv Festival.
You can follow him on the Twitter here. (rlarsen4)
You can "like" him on the Facebook here.
You can see him on the Youtube here, here and here.
If you want him to speak at your graduation, bar mitzvah or prom, drop a line at [RICKLARSEN4] [AT] [YAHOO] [DOT] [COM]
He drew these penguins: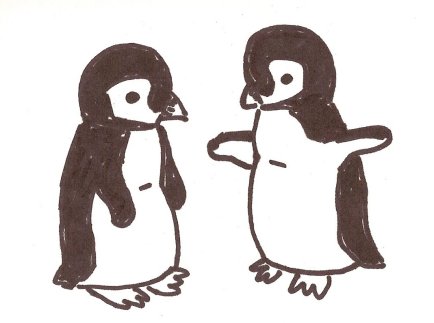 all contents (c) rick larsen.
THIS IS A DRAFT PAGE, CONTENTS SUBJECT TO CHANGE. THE DATES ARE FAKE, BUT REALISTIC. VISIT THE REAL thericklarsenshow.org FOR REAL INFO.
PO Box 1234. Fakesville, AZ 85224